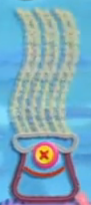 Anemonees are enemies in 
Kirby's Epic Yarn
. They are purple and white sea anemone-like creatures. Anemonees have tentacles that drag anyone in when touched. They also have a smile on their face as well as a pink and yellow button eye. Anemonees only appear in 
Blub-Blub Ocean
 and 
Fossil Reef
 of 
Water Land
. Anemonees sit on the ocean floor; their tentacles moving back and forth. Anemonees cannot move themselves, therefore they just sit there. If 
Kirby
 or 
Prince Fluff
 comes in contact with an Anemonee's tentacles, the Anemonee will slowly pull them in. If the heroes do not struggle to get out the tentacles in time, they will take damage and lose
Beads
. If Kirby/Prince Fluff succeed in getting out of the Anemonee's tentacles, the tentacles will become tangled up and ineffective for a while. Anemonees are unaffected by Kirby's yarn whip, however, they can be defeated by performing 
Dolphin Kirby's
 surge attack on their faces (let's say the purple part of their bodies).  
Ad blocker interference detected!
Wikia is a free-to-use site that makes money from advertising. We have a modified experience for viewers using ad blockers

Wikia is not accessible if you've made further modifications. Remove the custom ad blocker rule(s) and the page will load as expected.