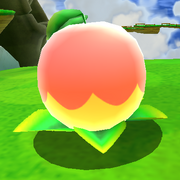 Berries, also known as Apples, are items that appear in
New Super Mario Bros. Wii
and
Super Mario Galaxy 2
. They are apple-like fruits found growing on bushes (NSMB Wii) or on the ground (SMG 2). They can only be eaten by
Yoshi
, who eats them right when he touches them. That means, they only appear in levels/galaxies that Yoshi is encountered in. In New Super Mario Bros. Wii, they appear in a few levels. When Yoshi eats one of these, a number will say 1. It then counts as Yoshi continues to eat Berries until it reaches 5. Every five Berries Yoshi eats makes him produce a
Yoshi Egg
which hatches a Power Up. In Super Mario Galaxy 2, Yoshi can eat these by touching them or using his tongue. Each Berry Yoshi eats makes him produce a
Star Bit
. If ten Berries are eaten, one
1-Up
is given to the player. There is also a large golden berry found in the
Yoshi Star Galaxy
. To eat this berry, Yoshi must grab it with his tongue and back away. When eaten, it gives a
Launch Star
and five Star Bits. There is also a Power-Up known as the
Bulb Berry
. When the Bulb Berry is eaten, Yoshi glows light for a short amount of time and can make invisible ground appear. The
Blimp Fruit
highly resembles a Berry, however, it is light blue, has a stem, and makes Yoshi fill up with air and float for a while.
Gallery

Ad blocker interference detected!
Wikia is a free-to-use site that makes money from advertising. We have a modified experience for viewers using ad blockers

Wikia is not accessible if you've made further modifications. Remove the custom ad blocker rule(s) and the page will load as expected.