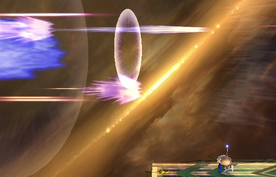 A Blast Line is a mark that if you go past it you are Koed and also the line that appears when you get Koed in
Super Smash Bros.
,
Super Smash Bros. Melee
, and
Super Smash Bros. Brawl
. Every time a character touches a blast line it is a
KO
. Blast lines are on all sides but the type of KO varies. Blast lines are invisible and only appear if a character or enemy (Brawl only) got normal Koed (A KO to the side of the stage) A Blast line is colorful. The color varies on the type of player. CPUs have a white blast line. Player 1 is red, Player 2 is blue, Player 3 is green, Player 4 is yellow.
Ad blocker interference detected!
Wikia is a free-to-use site that makes money from advertising. We have a modified experience for viewers using ad blockers

Wikia is not accessible if you've made further modifications. Remove the custom ad blocker rule(s) and the page will load as expected.