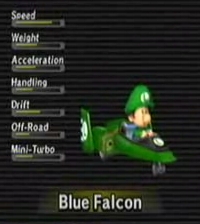 The Blue Falcon is a kart for small characters in Mario Kart Wii. It resembles
Captain Falcon's
Blue Falcon
. Baby Mario's Blue Falcon is the exact same color as the real Blue Falcon. Most characters' Blue Falcon are the color of their normal color. In the picture, it shows Baby Luigi in a green Blue Falcon. That is because his color is green. The Blue Falcon can be unlocked by placing 1st in the Lightning Cup in Mirror Mode. The Blue Falcon has awesome speed, and is the fastest small kart in the game. It has average drifting its other stats are low.
Stats-
Speed: Very High
Weight: Low
Acceleration: Mid-low
Handling: Low
Drift: Medium
Off-Road: Very Low
Mini-Turbo: Low
Ad blocker interference detected!
Wikia is a free-to-use site that makes money from advertising. We have a modified experience for viewers using ad blockers

Wikia is not accessible if you've made further modifications. Remove the custom ad blocker rule(s) and the page will load as expected.