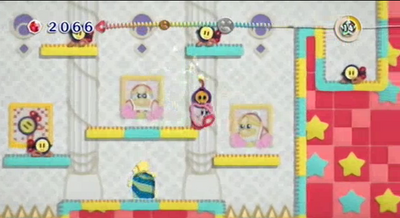 Bombers are enemies that appear in 
Kirby's Epic Yarn
. They are weak, accident-prone, missile type enemies with red legs. They also have a wind-up key on their backs. Bombers also have two eyes in the center of their bodies. Actually, where their eyes in Kirby's Epic Yarn are is actually where a skull is found in other games. In Kirby's Epic Yarn, Bombers often walk around in a set path. If a Bomber falls to the ground or is untangled from the yarn whip, it will land upside-down and explode shortly after. If
Kirby
touches a Bomber (even from the side), it will flatten and explode. If Kirby uses the yarn whip and rolls up a Bomber, it becomes a small, purple bomb wit eyes and a lit fuse. When the fuse runs all the way down, the Bomber will explode. In the level, 
Castle Dedede
, Kirby can create 
Patches
 revealing 
Bonus Stars
 and the stage's 
CD
 by defeating two different sets of Bombers. In
Super Smash Bros. Brawl
, Bombers have their own
Trophy
.
Gallery
Ad blocker interference detected!
Wikia is a free-to-use site that makes money from advertising. We have a modified experience for viewers using ad blockers

Wikia is not accessible if you've made further modifications. Remove the custom ad blocker rule(s) and the page will load as expected.