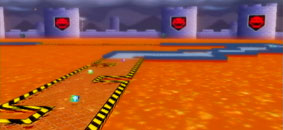 Bowser Castle 3 is a course in
Mario Kart Wii
. It first appeared in Super Mario Kart, however, the course that appears in Mario Kart Wii comes from Mario Kart: Super Circuit. The course features fence-like roads that travel over lava, jump line that help the player get over small pools of lava, and
Thwomps
who are dangerous obstacles here. The lava, however, is the main obstacle which must be avoided, for there are a few ways to fall into the boiling hot lava. There are many 90 degree turns. When the course begins, the player will go straight. At the end of the road, the player should turn left. He should then continue going straight. At the end of road, the player should turn left. He should go straight avoiding the two Thwomps on this road. After the Thwomps, the player will turn right. He will go straight crossing two fence-like roads over lava. After this, the player will turn right. He will go straight and shortly turn left onto a fence-like road over lava. The player should go straight and then make a left turn, avoiding two Thwomps that corner the edges of the left turn. He will then go straight. The player will go on a jump line, go over lava, and land back on the road. Then, he will go on another jump line, go over the lava, and land back on the road. The player should shift himself to the right as he prepares to go over the lava via a jump line again. He will go on a jump line, go over the lava, and land back on the road. The player will then go on one final jump line, go over the lava, and land back on the road. He should continue going straight, avoiding the Thwomps near the right edges of the road. The player should shift himself to the right as he nears the burgundy rough roads and avoid the Thwomp after it, as he prepares to turn left. The player should turn left. After this, he should go straight and shortly turn left again (Hmmm, guess that was a U-turn instead). The player should go straight avoiding the Thwomps. He can take the zipper halfway through the road to perform Tricks on. After the Thwomps, the player should shortly turn right and go straight over 3 fence-like roads over lava. The last fence-like road over lava is the longest and has holes in its edges which must be avoided, otherwise the player will fall into the lava and be rescued by
Lakitu
, making him waste time and lose his position (most likely). The player can go through some
Item Boxes
on the third fence-like road over lava for items. After the third fence-like road over lava, the player will turn right and follow the road which is going in a zig-zag-like way. After the zig zag-like road, the player will make a U-turn onto another road. He should go straight, avoiding the Thwomps. While he continues going straight, after passing the first Thwomp of this road, the player will travel over another long fence-like road with holes in its edges, which must be avoided. After the fence-like road over the lava, the player should avoid a Thwomp. After the Thwomp, the player will shortly pass through the finish line. Congrats! You're ready for your second lap! Good luck! Be careful, because all Bowser Castles are dangerous and tricky.
Gallery

Ad blocker interference detected!
Wikia is a free-to-use site that makes money from advertising. We have a modified experience for viewers using ad blockers

Wikia is not accessible if you've made further modifications. Remove the custom ad blocker rule(s) and the page will load as expected.