Call of Duty: 3
(branded as
Call of Duty ***
) is the third Call of Duty video game released for the series. It was the first to be released for the Wii console.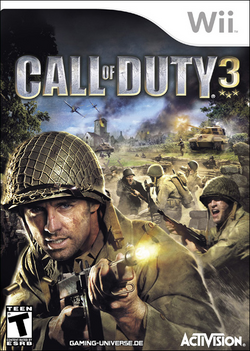 Plot
The game follows the exact story of the World War II effect as the Nazis continue their conquest and attack Paris, France. United States soldier, Niquols, finds himself fiighting a series of battles and later on moving to other posts and other soldiers.
Ad blocker interference detected!
Wikia is a free-to-use site that makes money from advertising. We have a modified experience for viewers using ad blockers

Wikia is not accessible if you've made further modifications. Remove the custom ad blocker rule(s) and the page will load as expected.