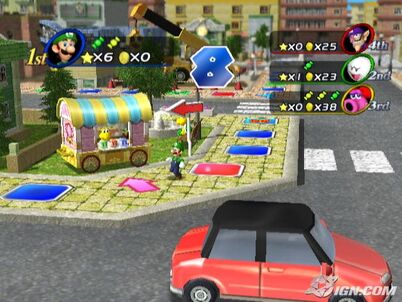 Candy Shops are stores that are found throughout boards in
Mario Party 8
. Players can purchase
Candies
here. If a player has at least five
Coins
, they are allowed to enter the Candy Shop. Candy Shops are always run by the residents of the board. For example,
Piantas
run Candy Shops in Goomba's Booty Boardwalk, while
Shy Guys
run Candy Shops in Shy Guy's Perplex Express. Inside a Candy Shop are three Candies the player can choose from. On a few occasions there a two or even all three Candies are identical. Candies usually cost between five to twenty Coins, and are sold at fixed prices. However, every once in a while, Candies are on a discounted price. Usually the
Twice Candy
is sold in Candy Shops. In certain occasions, however, the shop sells a variety of Candies such as the
Thrice Candy
,
Duelo Candy
and
Bowlo Candy
. However, the Candy Shop does not include some types of Candies. It depends on the board you are on.
Ad blocker interference detected!
Wikia is a free-to-use site that makes money from advertising. We have a modified experience for viewers using ad blockers

Wikia is not accessible if you've made further modifications. Remove the custom ad blocker rule(s) and the page will load as expected.