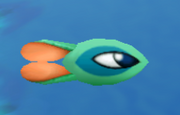 Ceruleans are enemies in 
Kirby's Return to Dream Land
. They are blue-green seed-shaped enemy. Ceruleans have similar shaped eyes and fins as well. Their pupils are blue in color while their seed-shaped fins are brown in color. Ceruleans' fins can come in multiple sizes, especially in Extra Mode. Ceruleans appear in many levels such as 
Cookie Country
, 
Raisin Ruins
,
White Wafers
and 
Nutty Noon
. They attack by just flying around at a slight angle. Ceruleans will turn around and fly the opposite direction whenever they hit a wall or other obstacle. On rare occasions, Ceruleans will try to follow 
Kirby
 and his buddies (
Meta Knight
, 
King Dedede
, 
Bandana Waddle Dee
). Any hero who touches a Cerulean will take damage. Ceruleans can be defeated easily. If Kirby 
Inhales
 a Cerulean, however, he will not receive a 
Copy Ability
 for doing so. It is to note that Cerulean's name comes from the color "cerulean". Cerulean is a bright dark blue color, which is strange since Cerulean the enemy is blue-green in color. 
Gallery
Ad blocker interference detected!
Wikia is a free-to-use site that makes money from advertising. We have a modified experience for viewers using ad blockers

Wikia is not accessible if you've made further modifications. Remove the custom ad blocker rule(s) and the page will load as expected.