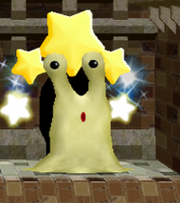 Clayns are enemies in 
Kirby's Return to Dream Land
. They are tan, slug-like enemies, with long eyes with black pupils and a red mouth. Clayns are somewhat common enemies in the game. They attack by rising out of the ground when 
Kirby
 and his buddies (
Meta Knight
, 
King Dedede
, 
Bandana Waddle Dee
) get near.  After rising out of the ground, these weak enemies stay put and can be easily defeated by any attack. Clayns can be 
Inhaled
, however, they grant no 
Copy Ability
 when doing so. 
Ad blocker interference detected!
Wikia is a free-to-use site that makes money from advertising. We have a modified experience for viewers using ad blockers

Wikia is not accessible if you've made further modifications. Remove the custom ad blocker rule(s) and the page will load as expected.