Crates
are items in
Super Smash Bros. Brawl
. They release other items when broken.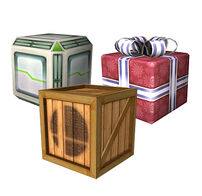 Crates can be easily broken with a throw, smash attack or ground pound. Crates, alongside the
Barrel
,change appearance depending on what stage you are playing on (Crates can be wooden, present-like, or "laboratory"-like). Crates on the
Item Switch
appear as containers. If the Containers Switch is off no Crates,
Barrels
,
Capsules
, or
Party Balls
will appear. Crates are excellent throwing items that have high
knockback
(usually
KOing
) if it hits.
Gallery
Ad blocker interference detected!
Wikia is a free-to-use site that makes money from advertising. We have a modified experience for viewers using ad blockers

Wikia is not accessible if you've made further modifications. Remove the custom ad blocker rule(s) and the page will load as expected.