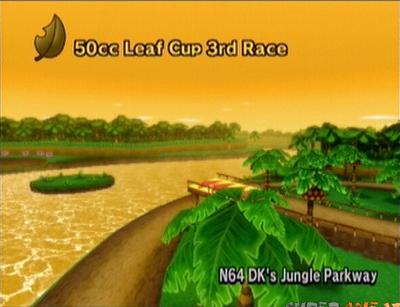 D.K.'s Jungle Parkway is a course in Mario Kart Wii. It first appeared in
Mario Kart 64
, making it a retro cup course. However, some changes have been made. The water is orange instead of blue. Characters are riding the cruise boat named "Mario". Some
Piantas
are on the island in the water. In the cave there is mud that slows down players. When the race begins you start off going on the shoreline of the road. You will come to a large jump. The jump shoots you across the river to another shoreline. You will keep driving on a dirt path until you come to a narrow bridge (be careful when turning; you can crash onto the bridge). The narrow bridge goes over the river again but on your right is a magnificent... orange (?) waterfall? Here is one of the courses with waterfalls, the other being
Koopa Cape and
Yoshi Falls
. As you go across the bridge you enter a cave. Be careful when drifting, because on your left is mud. Like said, the mud slows down players when driven on. As you exit the cave with a left turn you will find yourself, once again, on a dirt path. You will then see the finish line. Super! You're ready for your second lap! This course isn't one with hazards so you don't have to freak out, but don't drive to close to the shoreline (if a heavy vehicle pushes you when you are driving on the shoreline, you're doomed).
Ad blocker interference detected!
Wikia is a free-to-use site that makes money from advertising. We have a modified experience for viewers using ad blockers

Wikia is not accessible if you've made further modifications. Remove the custom ad blocker rule(s) and the page will load as expected.