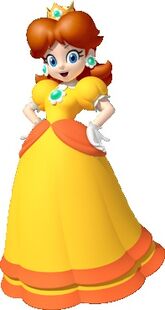 Daisy
is the princess of Sarasaland. Her first appearance is in Super Mario Land in 1981, in which she is captured by an alien named Tatanga, who plans to marry her and take over her kingdom. Her next appearance was as
Luigi
's caddy in NES Open Tournament golf, which was not until 1991. Since then, she has appeared in various sports games. She has orange/brown hair and a yellow dress. Her skin was tan for a brief time, but then it was pale. She's a quite tomboy- for a princess, that is.
Ad blocker interference detected!
Wikia is a free-to-use site that makes money from advertising. We have a modified experience for viewers using ad blockers

Wikia is not accessible if you've made further modifications. Remove the custom ad blocker rule(s) and the page will load as expected.