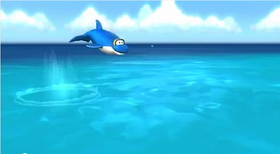 Dolphins are underwater creatures that appear in 
Mario Party 8
 and 
Mario Party 9
. They are blue dolphins with stubby noses, white bellies, and a pair of goggles over their snout. Dolphins first appeared as allies in
Super Mario World
. They helped Mario safely cross the waters infested with 
Porcu-Puffers
. In Mario Party 8, Dolphins play an important role in the board, 
Goomba's Booty Boardwalk
. Players can pay the Dolphins a certain amount of 
Coins
 depending on their location in exchange for a ride on the Dolphin's back and advance a number of spaces. In Mario Party 9, Dolphins also play an important role. They appear in 
Blooper Beach
. On the first half of the board, Dolphins are the first active underwater creature to show up when a party is started, and they will spawn six spaces away. They advance two spaces with every turn. If the player lands on or catches up to the Dolphin on the board, the Dolphin will give them 5 
Mini Stars
. Dolphins also appear when the player lands on a 
Lucky Space
 near the end of the board. Landing on this space results in a pair of Dolphins leading the player to an island with several Mini Stars. Also, during the minigame 
Ring Leader
, players ride Dolphins to jump through hoops. 
Gallery
Ad blocker interference detected!
Wikia is a free-to-use site that makes money from advertising. We have a modified experience for viewers using ad blockers

Wikia is not accessible if you've made further modifications. Remove the custom ad blocker rule(s) and the page will load as expected.