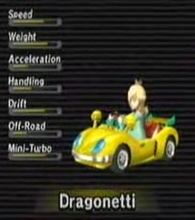 The Dragonetti, also known as the Honeycoupe, is a kart for large characters in
Mario Kart Wii
. This kart looks rather like a normal car than a kart. It has a spoiler on its back, and has headlights. The character's emblem appears on a license plate on the back. Compared to the
Flame Flyer it
is slower, but has better acceleration. It has great drift and mini-turbo, which nearly rivals the
Wild Wing
. The car looks smaller than the Flame Flyer, but is heavier than it (also heavier than the Wario Bike and
Jetsetter
). However, it is lighter than the
Offroader
. The Dragonetti's bike counterpart is the Shooting Star.
Stats-
Speed: High
Weight: Very High
Acceleration: Low
Handling: Low
Drift: High
Off-Road: Very Low
Mini-Turbo: High
Ad blocker interference detected!
Wikia is a free-to-use site that makes money from advertising. We have a modified experience for viewers using ad blockers

Wikia is not accessible if you've made further modifications. Remove the custom ad blocker rule(s) and the page will load as expected.