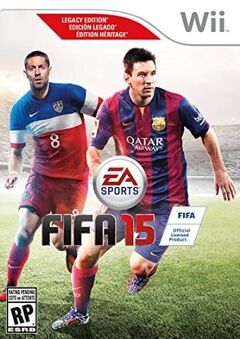 FIFA 15 is the 22nd title of the game in the FIFA gaming series. The game was released for PlayStation 3, PlayStation 4, PlayStation Vita, Nintendo 3DS, Wii, Xbox One, Xbox 360, Microsoft Windows, IOS, Android, Windows Phone and PC. It was released on 23 September 2014 in North America, 25 September in Europe and 26 September in the United Kingdom and Ireland.
The game features Lionel Messi on its cover, alongside a different player in different parts of the world, and is the first game in the FIFA series to be fully licensed by the Premier League. FIFA 15 received positive reviews across all platforms.
Ad blocker interference detected!
Wikia is a free-to-use site that makes money from advertising. We have a modified experience for viewers using ad blockers

Wikia is not accessible if you've made further modifications. Remove the custom ad blocker rule(s) and the page will load as expected.