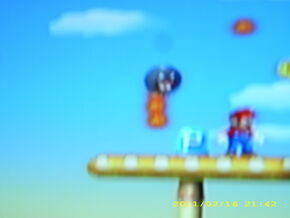 Fire Chomps are enemies in
New Super Mario Bros. Wii
. They are a sub-species of
Chain Chomps
who only have an angry Chain Chomp head with a wicked smile, and a tail made of
Fireballs
. They spit the Fireballs from their tail at
Mario
as well as chase him. When this enemy runs out of fire, it will flash red and self-destruct by exploding in a few seconds later. During the self-destruct, it chases Mario faster than usual. A jump on its head defeats this enemy, and, oddly, a Fireball also defeats it. Touching this enemy's Fireballs, explosion (self destruct) or it enemy itself makes Mario lose a form or die if he is at small form.
Ad blocker interference detected!
Wikia is a free-to-use site that makes money from advertising. We have a modified experience for viewers using ad blockers

Wikia is not accessible if you've made further modifications. Remove the custom ad blocker rule(s) and the page will load as expected.