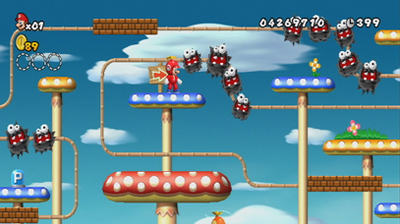 Fuzzies are parasitic nemies in
New Super Mario Bros. Wii and
Super Mario Galaxy 2
. They are black, fuzzy looking parasites, with open mouths and four teeth. They can damage
Mario
if he touches them, or if they touch him. Fuzzies first appeared in
World 7 (NSMB Wii)
of New Super Mario Bros. Wii. When riding on those moving
Bricks
/platforms, Fuzzies will appear either in front of you or behind you. You must jump to avoid them. There are also
Mega Fuzzies
, Fuzzys' giant subspecies, in the game. Because of that, players must be cautious in levels with Fuzzies. If Mario,
Luigi
,
Blue Toad
or
Yellow Toad
comes in contact with a Fuzzy or Mega Fuzzy, they will lose a form or die if at small form. Fuzzies also appear in
World 9 (NSMB Wii)
. Fuzzies can be defeated by hitting them with a fireball from a
Fire Flower (NSMB Wii)
or throwing an iceball from an
Ice Flower
, and throwing away/breaking the
ice block
they're trapped in. In Super Mario Galaxy 2, Fuzzies appear in the
Honeybloom Galaxy
, moving up and down the orange poles you can climb. Strangely, these Fuzzies leave behind small clouds of black smoke as they move. Fuzzies also appear in the
Flipsville Galaxy
. In the Flipsville Galaxy, these Fuzzies can be defeated by spinning the
Spin Drill
on them. Touching Fuzzies in Super Mario Galaxy 2 causes Mario/Luigi to lose one wedge on their
Health Meter
. Fuzzies also make an appearance in
Super Paper Mario
. They appear on
Planet Blobule
where they attack Mario and the crew by bumping into them. A more dangerous type of Fuzzy, the
Dark Fuzzy
, is introduced in Super Paper Mario as well.
Gallery
Ad blocker interference detected!
Wikia is a free-to-use site that makes money from advertising. We have a modified experience for viewers using ad blockers

Wikia is not accessible if you've made further modifications. Remove the custom ad blocker rule(s) and the page will load as expected.