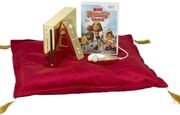 The Gold-plated Wii is a Wii that was a gift from gaming company THQ to the Queen of England.
The gift was sent along with a copy of the unreleased game Big Family Games. The gift was made to create awareness of the game given.[1] The hope is that the Queen will try the game, and like it, thereby improving public awareness of the game even before the game is released; boosting the sales of the game when it is released. The game, Big Family Games, is a game that has many different minigames, such as minigolf, bocce, and more.[2]
References
Ad blocker interference detected!
Wikia is a free-to-use site that makes money from advertising. We have a modified experience for viewers using ad blockers

Wikia is not accessible if you've made further modifications. Remove the custom ad blocker rule(s) and the page will load as expected.