Gringill
Talk

0
1,657pages on
this wiki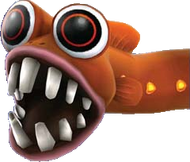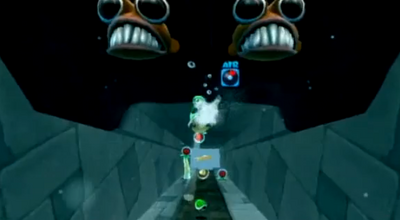 A Gringill is an enemy that appears in
Super Mario Galaxy
and
Super Mario Galaxy 2
. There are large, orange or lavender eel-like enemies with large eyes and teeth. They first appear in the
Beach Bowl Galaxy
, and later in the Drip Drop Galaxy,
Sea Slide Galaxy
, Bigmouth Galaxy, and
Deep Dark Galaxy
. Gringills try to simply eat the player. They can be defeated with a Koopa Shell while underwater. Gringills may be a sub-species of a Unagi. Some Gringills appear in caves, and come out a small distance when
Mario
or
Luigi
get close. Gringills appear in the
Cosmic Cove Galaxy
,
Slimy Spring Galaxy
, and
Starshine Beach Galaxy
of Super Mario Galaxy 2 behaving the same way they did in Super Mario Galaxy.