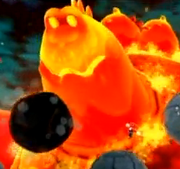 Magmaws are enemies in 
Super Mario Galaxy 2
. They are not to be confused with 
Magmaarghs
. Magmaws and Magmaarghs are a sub-species of 
Blarggs
. These enemies are made entirely of 
Lava
. They have two eyes and a large mouth. Being made of a type of liquid and Lava, Magmaws (much like with Magmaarghs), can pass through objects without being affected. Magmaws only appear on the 
Magmaw Planet
 in the 
Melty Monster Galaxy
. Here, they will raise up from the Lava in the background, and come and pass through asteroids that 
Mario
/
Luigi
 must jump on to proceed to the nearby 
Power Stars
. If a Magmaw passes through an asteroid while Mario/Luigi is on it, they will react as if they have touched Lava and will run around uncontrollably for a few seconds. Much like with Magmaarghs, Magmaws cannot be defeated at all. 
Gallery
Ad blocker interference detected!
Wikia is a free-to-use site that makes money from advertising. We have a modified experience for viewers using ad blockers

Wikia is not accessible if you've made further modifications. Remove the custom ad blocker rule(s) and the page will load as expected.