Mario Kart 8
Developer(s)
Nintendo
Publisher(s)
Nintendo
Platform(s)
Wii U
Release date(s)
May 29, 2014

May 30, 2014

May 30, 2014

May 31, 2014

Genre(s)
Kart-Racing
Players
1-4 players
Rating(s)
ESRB: E
Media
Wii U Media Disc
Input
Wii U Gamepad, Wii Remote, Wii Wheel, Nunchuk
Predecessor
Mario Kart 7
Successor
TBA
Mario Kart 8 at Nintendo.com
Mario Kart 8
is an upcoming
Mario Kart
game for the
Wii U
, confirmed to be released in May 2014. The game is the eighth installment in the mainstream series, and eleventh overall in the Mario Kart series. Anti-gravity, a new feature for the Mario Kart series, has been confirmed. Bikes, gliders, and underwater driving are also confirmed to return.
Gameplay
The gameplay maintains the traditional elements as most Mario Kart games. The most karts use design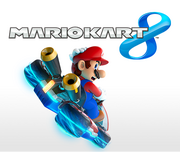 s similar to the ones from
Mario Kart 7
, with gliders and underwater racing returning. Bikes, which were introduced in
Mario Kart Wii
, make a return, as well, and can only do wheelies if they boost via a mushroom, a boost pad, or a rocket start. The game introduces anti-gravity tracks that allow the players to race on vertical and upside-down roads. These tracks are also more narrow when compared to previous Mario Kart tracks, specifically those from Mario Kart Wii. When in anti-gravity, if a racer bumps into another racer the kart spins rather than just bumping. Coins, introduced in
Super Mario Kart
and returned for 
Mario Kart: Super Circuit
and
Mario Kart 7
, also return for this game, and like Mario Kart 7 the player can only collect up to ten coins at one time. Also, like Mario Kart Wii, twelve racers are present in normal races. For the fourth time in the series, courses from previous Mario Kart games will be included, but it's unknown whether the game's anti-gravity mechanic , as well as Mario Kart 7 's "air, land & sea" mechanic will be incorporated into these tracks the same way as the hang glider/underwater mechanic was incorporated into the retro courses in Mario Kart 7. An aesthetic changes includes the kart headlights turning on in a dark area. It has been confirmed that there will be Miiverse integration, which will allow players to share their replay videos and comment on others' videos. In another interview with the developers, it was revealed that customization from Mario Kart 7 was returning with more customization options. Also, in 2-player mode, the screen will split down the middle vertically instead of the horizontal split used in the other console Mario Kart games, a feature that was originally intended to be in
Mario Kart 64
but was removed from the final game.
Playable Characters
So far 30 playable characters have been confirmed with sixteen characters are available at the start while fourteen are unlockable. Like Mario Kart 7, there will be 7 different classes that each character will be in.
Featherweights
Super Lightweights
Lightweights
Mediumweights
Cruisers
Heavyweights
Super Heavyweights
Any
Courses
So far, 26 tracks out of a total of 32[1] have been confirmed, consisting of 13 new tracks and 13 retro tracks, featuring one track from Super Mario Kart, three tracks from Mario Kart 64, one from Mario Kart: Super Circuit, one from Mario Kart: Double Dash!!, two from Mario Kart DS, two from Mario Kart Wii, and three from Mario Kart 7.[2][3] As with the retro tracks from the 3DS installment, the retro tracks in this game will feature altered sections that incorporate the game's hang-glider, underwater, and anti-gravity features. The game will feature live-recorded music for the new tracks and the retro tracks (excluding 3DS tracks).
Nitro courses
TBA
Retro Courses
TBA
External links
Cite error: <ref> tags exist, but no <references/> tag was found
Ad blocker interference detected!
Wikia is a free-to-use site that makes money from advertising. We have a modified experience for viewers using ad blockers

Wikia is not accessible if you've made further modifications. Remove the custom ad blocker rule(s) and the page will load as expected.