Wii Channel
Either this channel is present on your system by default, can be downloaded through the Wii Shop Channel, or will be included in a future Wii System Update.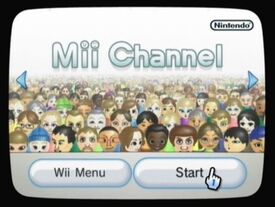 The Mii Channel is the channel that is used to create Mii[s], which can be used in a variety of games, such as Wii Sports, Wii Sports Resort, WarioWare: Smooth Moves, and Wii Play. The Mii channel comes with the wii when you buy it. All Miis made are stored in the 'Mii Plaza', and if the owner so wishes, other people's Miis can come onto their Wii, and into the plaza. You can also access the Mii Parade from here. An option given in the Mii Channel is to save a Mii into the Wii Remote, for a maximum of ten Miis on one remote. From here, the Miis on the Wii Remote can be brought to another Wii console so that the owner of the other Wii console can use those Miis on their plaza. The new Wii channel, the Check Mii Out Channel uses Miis that you have created on the Mii channel in contests, and to simply upload and see other people's craftsmanship.
See Also
Ad blocker interference detected!
Wikia is a free-to-use site that makes money from advertising. We have a modified experience for viewers using ad blockers

Wikia is not accessible if you've made further modifications. Remove the custom ad blocker rule(s) and the page will load as expected.