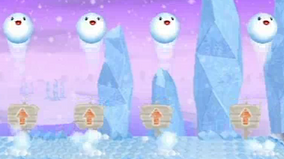 Mopoos are enemies in 
Kirby's Return to Dream Land
. They are enemies who have a ball-shaped head (which is actually a spherical ray). The rest of their body is made up of smaller spherical rays. Mopoos have two eyes on their head as well as a smiling mouth. Mopoos like sky or cold areas, therefore some can be found in 
White Wafers
 and 
Nutty Noon
. Mopoos can be found coming out of small clouds and either traveling straight up or straight down. They do not attack
Kirby
 or his buddies (
Meta Knight
, 
King Dedede
, 
Bandana Waddle Dee
) and do not reward Kirby with a 
Copy Ability
 if 
Inhaled
. Mopoos however, can be easily defeated. 
Ad blocker interference detected!
Wikia is a free-to-use site that makes money from advertising. We have a modified experience for viewers using ad blockers

Wikia is not accessible if you've made further modifications. Remove the custom ad blocker rule(s) and the page will load as expected.