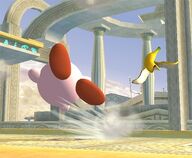 Prat Falling is a new feature in Super Smash Bros. Brawl. It is also called tripping and happens whenever the control stick. The player will fall to the ground and sit with a confused expression. It is one of the many Group Records (character records) along with # of
KOs
, Falls, Drownings,
Self-destructs
, Lost
Coins
, Collected Coins etc. Prat Falls are a great way to
KO
an opponent since when they fall, you are able to do a quick, uncharged, smash attack. The sound of the fall is if the character is from a realistic or cartoonish universe.
Causes of Prat Falling-
If the control stick is smashed.
Walking on a Banana Peel.
Luigi's Negative Zone causes tripping.
Surfaces with a lack of traction such as ice floors.
Getting hit by Down tilts and low attacks can cause the character to trip.
An Uncharged Wario Waft can cause tripping.
When Tingle makes a rain shower of Banana Peels.
Ad blocker interference detected!
Wikia is a free-to-use site that makes money from advertising. We have a modified experience for viewers using ad blockers

Wikia is not accessible if you've made further modifications. Remove the custom ad blocker rule(s) and the page will load as expected.