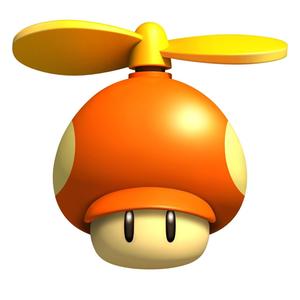 The Propeller Mushroom is a
Mushroom that
appears in
New Super Mario Bros. Wii
. It is an orange mushroom with a cap-like helmet and a propeller on its head. When Super (Normal sized in other games)
Mario
touches it, he gains the
Propeller Suit
. He can then fly away! The Propeller Mushroom is one of the many types of Mushrooms. This Mushroom appears when Mario hits a
Brick
or
Question Block
. It flies around until touched. If Mario fails to touch it in time, he loses it. Propeller Mushrooms are one of the items that appear in Power-Up Panels.
Ad blocker interference detected!
Wikia is a free-to-use site that makes money from advertising. We have a modified experience for viewers using ad blockers

Wikia is not accessible if you've made further modifications. Remove the custom ad blocker rule(s) and the page will load as expected.