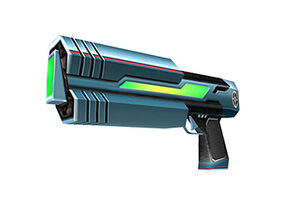 The
Ray Gun
is an item in
Super Smash Bros. Brawl
. It is a gun that shoots green rays at opponents. A Ray Gun can shoot 16 shots before becoming useless. They can KO an opponent if you are using aiming and timing at your opponent. If done successfully you can shoot your opponent behind the
Blast line
. Ray Guns are the smallest items that shoot projectiles.
Super Smash Bros. Melee
's Ray Gun was fatter than Brawl's and was a grayish, purple color (see the picture below).
Ad blocker interference detected!
Wikia is a free-to-use site that makes money from advertising. We have a modified experience for viewers using ad blockers

Wikia is not accessible if you've made further modifications. Remove the custom ad blocker rule(s) and the page will load as expected.