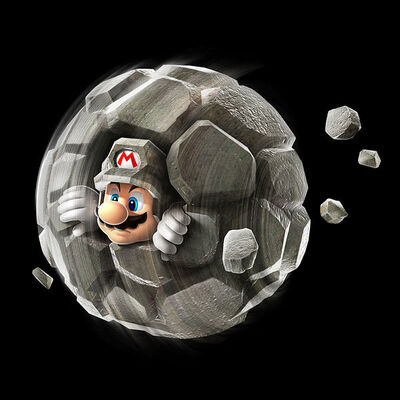 The Rock Mushroom, is an item in
Super Mario Galaxy 2
. It is a
Mushroom
with a rocky head. When
Mario
touches the Power Up, he becomes Rock Mario. His cap and suit are turned into rocks stuck to many other rocks, creating a boulder. Shaking the
Wii Remote will
enclose Mario into the boulder. Only Mario's head is seen (plus the "M" on his hat). Mario can roll around and jump in this form. He can damage enemies and crystals in this form. However, doing this returns him into Rock Mario. However, all you must do is shake the Wii Remote to return into the boulder. The Rock Mushroom's major role is in Boulder Bowl Galaxy.
Ad blocker interference detected!
Wikia is a free-to-use site that makes money from advertising. We have a modified experience for viewers using ad blockers

Wikia is not accessible if you've made further modifications. Remove the custom ad blocker rule(s) and the page will load as expected.