Rosalina, also known as Princess Rosalina or Rosetta, is a character who appears in
Super Mario Galaxy
,
Mario Kart Wii and
Super Mario Galaxy 2
. She wears a teal dress, a yellow pendant, a crown with turquoise and ruby jewels, yellow earrings, blond hair, and purple nail polish. In Super Mario Galaxy she appears at the beginning of the game to introduce herself, and help
Mario
get around. Mario befriends her. After Mario collects 120
Power Stars
and defeats Bowser, a cutscene shows her saying goodbye and thank you. Rosalina is able to float around on her own like the Lumas do. Rosalina is an unlockable character in Mario Kart Wii. She can be unlocked by having a Super Mario Galaxy save file and completing 50 races. She is a large character, the first female character in this class. A Luma orbits around her when she is racing. Her racing symbol is a Grand Star. She appears in a biker suit when driving a bike like
Peach
and
 Daisy do
as well. Rosalina only appears in the ending scene of Super Mario Galaxy 2. Rosalina is also an unlockable character in
Super Mario 3D World
, and is also appearing in
Mario Kart 8
and
Super Smash Bros. For Wii U / Nintendo 3DS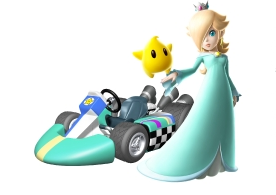 Ad blocker interference detected!
Wikia is a free-to-use site that makes money from advertising. We have a modified experience for viewers using ad blockers

Wikia is not accessible if you've made further modifications. Remove the custom ad blocker rule(s) and the page will load as expected.