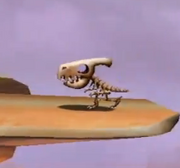 Skellyrexes are enemies in
Donkey Kong Country Returns
. They are found mostly in the
Cliff (Donkey Kong Country Returns)
, but they also appear in the level,
Tumblin' Temple
. Skellyrexes are skeletal dinosaurs. They move around from left to right, usually posing a small threat to
Donkey Kong
and
Diddy Kong
. They can be defeated by any attack method whether it is rolling into them, throwing a
Barrel
at them, or jumping on them twice. When jumped on, they lose their heads. Their heads bounce about the place. A second jump defeats them for good. The Kongs must be careful to not touch the Skellyrexes, body on or off. Some Skellyrexes ride
Minecarts
, which are found in
Prehistoric Path
. These types of Skellyrexes can be defeated with a simple jump.
Ad blocker interference detected!
Wikia is a free-to-use site that makes money from advertising. We have a modified experience for viewers using ad blockers

Wikia is not accessible if you've made further modifications. Remove the custom ad blocker rule(s) and the page will load as expected.