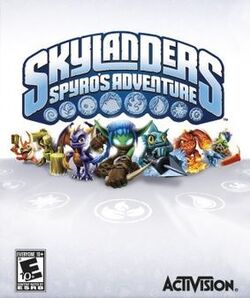 Skylanders Spyro's Adventure is the first game in the Skylanders series. It is a video game that is played along with toy figures that interact with it through a "Portal of Power", that reads their tag through NFC.
Skylanders Spyro's Adventure was published by Activision and developed by Toys for Bob. It was released on October 12, 2011 in Australia for the PC and October 13, 2011 on other consoles. The game was released in Europe on October 14, 2011, in North America on October 16, 2011, and it was released in South America (including Brazil) by Neoplay on December 15, 2011.[1][2]
Japan eventually finally saw a release of this game, being handled by Toys "R" Us and Square Enix and was released for the Wii, PlayStation 3, Nintendo 3DS and the region has also received a unique Wii U port exclusively (instead of having an Xbox 360 release), being released on July 12, 2013, which was nearly two years after its release in the western regions, thus making this the first Spyro game to be released in Japan in almost 10 years, since Spyro Orange: The Cortex Conspiracy. [3]
Vicarious Visions developed the Nintendo 3DS release. Frima Studio developed the Web, iPhone and iPad version of Skylanders.[4]
Activision announced that as of June 3, 2012, the game had been the top selling console and handheld video game worldwide for 2012.[5][6] As of March 31, 2012, Activision has sold over 30 million Skylanders toys, and sales are expected to exceed $500 million by the end of the year.[7][8]
Characters
There are 32 standard characters and 8 different elements under which characters are classified. The 8 elements are Magic, Water, Tech, Fire, Earth, Life, Air and Undead. When the character figurines are placed on the "Portal of Power" peripheral, they appear in the game. The "Starter Pack" has three characters to start with – Spyro, Trigger Happy, and Gill Grunt. Each character has specialized statistics in areas such as health and speed. The player can also find hats for the characters, which further affect statistics.[Citation needed] Each Element has a place for that type of Skylander with the same element to go into. If you play 2 player only 1 needs the same element.
In addition to the standard character figures that are available for purchase there are also limited edition Gold, Silver, Crystal, and Glow-in the Dark versions of certain characters.
3DS version
This version of Skylanders: Spyro's Adventure is more of an action platformer than its console counterparts. Players have to complete levels by gathering crystals, which lets them unlock more levels. Each level is littered with crystals, obtained by going towards the end of the level, or by completing a variety of tasks, such as defeating a certain number of enemies, or finding items. Whenever the player finds a crystal, an enemy awakens and a time limit starts. They have to defeat enemies, and get clocks in the level to get more time to ward off the chasing enemy. Unlike other versions, characters can make a jump, and a double jump.[9] This version of the game is set in a different realm in Skylands called the Radiant Isles, and a different force of darkness is faced under the command of Hektore. Unlike the console versions, the starter pack for the 3DS version comes with the Skylanders Ignitor, Stealth Elf, and Dark Spyro.[10]
Cite error: <ref> tags exist, but no <references/> tag was found
Ad blocker interference detected!
Wikia is a free-to-use site that makes money from advertising. We have a modified experience for viewers using ad blockers

Wikia is not accessible if you've made further modifications. Remove the custom ad blocker rule(s) and the page will load as expected.