Sonic the Hedgehog
Talk

0
1,657pages on
this wiki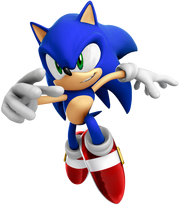 Sonic The Hedgehog is a video game character and the hero of a Sonic the Hedgehog video game series released by Sega, as well as numerous spin-off comics, cartoons and books. The first game in the franchise was released on June 23, 1991 (also Sonic's birthday) in order to provide Sega with a mascot to rival Nintendo's flagship character Mario .[1] Since then, Sonic has become one of the world's best-known video game characters, with his series having sold over 45 million copies.[2] In 2005, Sonic was one of the first game character inductees into the Walk of Game alongside Mario and Link.
Artist Naoto Ōshima, designer Hirokazu Yasuhara and game programmer Yuji Naka are generally credited with the creation of the character,[3] a blue, male, anthropomorphic, humanoid hedgehog, whose ability to run faster than the speed of sound[4] is a major part of the gameplay of the series.[5]
Water Wreck
Edit
Sonic appeared again for the Nintendo Gamecube in Sonic Adventure DX: Director's Cut with other friends in the story.
Sonic's story begins with Sonic jumping to building to building in the night skies of Station Square, until he spots a helicopter and police cars past him. Sonic followed the police cars and wondering what was happening. The police were surrounding a big living water creature. The police started shooting the creature, but it didn't affect the creature so the police ran away. When the police ran away, Sonic jumped up in fornt of the creature and both started to fight. The battle was over and the creature was turned into a puddle and went into a water drain, and Sonic was staring down at the water drain. While Sonic was looking at the drain, Dr. Eggman was standing on top of an building and said "You know nothing, fool! It's Chaos! The God of Destruction!". The next day, Sonic was sleeping on a chair next to the Station Square Hotel's pool until he woke up and spots the Tornado going out of control. Sonic tried to yell at Miles "Tails" Prower that he was going to crash, but failed so Sonic dashed to Emerald Beach to find Tails. Sonic came back from Emerald Beach with Tails and asks him what happened. Tails said that he was using a new protype propulsion system with the power of an Chaos Emeralds and he asked Sonic to go to his workshop in Mystic Ruins to show him something. When Sonic and Tails makes it to the Mystic Ruins, they both spot Dr. Eggman and he ordered Sonic to give him all of the seven Chaos Emeralds.
Cite error: <ref> tags exist, but no <references/> tag was found