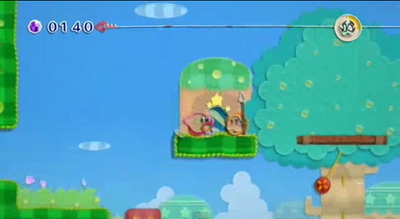 Spear Waddle Dees are enemies in 
Kirby's Epic Yarn
. They are one of the many sub-species of 
Waddle Dees. 
They are basically Waddle Dees that wield wooden spears. Spear Waddle Dees are among the more common sub-species of Waddle Dees. They walk around an area wielding their spears upwards or sideways. However, after spotting 
Kirby
 or 
Prince Fluff
, they will not try to stab the heroes with it, however, if the heroes touch their spear, they will take damage and lose
Beads
. They can be defeated just like any other Waddle Dee or Waddle Dee sub-species, which is by turning them into a yarn ball and throwing them. Kirby can also yank their spear off and make a projectile out of it if it is pointed at him. If the enemies go to sleep, they will plant their spear tip-first in the ground nearby. They will become harmless at this point.  
Gallery
Ad blocker interference detected!
Wikia is a free-to-use site that makes money from advertising. We have a modified experience for viewers using ad blockers

Wikia is not accessible if you've made further modifications. Remove the custom ad blocker rule(s) and the page will load as expected.