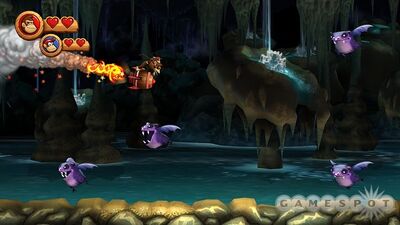 Squeeklies are enemies in
Donkey Kong Country Returns
. They are one of the most common enemies (aside from Tikis) that appear in various levels. They make a prominent appearance in the fifth level of the
Cave (Donkey Kong Country Returns)
,
Crowded Cavern
. Crowded Cavern features the Squeekly Family, a big group of bats which is made up of Squeeklies and their bigger sub-species who all use different attacks. Squeeklies are purple bat enemies who attack by just flying straight forward. In levels other than Crowded Cavern, Squeeklies can be defeated with a jump or a
Barrel thrown
at them.
Ad blocker interference detected!
Wikia is a free-to-use site that makes money from advertising. We have a modified experience for viewers using ad blockers

Wikia is not accessible if you've made further modifications. Remove the custom ad blocker rule(s) and the page will load as expected.