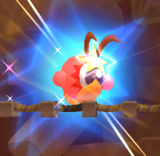 Super Waddle Doos are enemies in 
Kirby's Return to Dream Land
. They are a sub-species of 
Waddle Doos
. Super Waddle Doos look exactly like Waddle Doos however, they are red in color, a bright yellow star above its purple eye, a spiked ring around its eye, longer hair strands over their eyes, pointed feet and a multicolored aura that surrounds them. Super Waddle Doos appear in a few levels such as 
Nutty Noon
 and 
Egg Engines
. Despite the name "Super Waddle Doo", Super Waddle Doos are not stronger than Waddle Doos, nor do they attack any different from regular Waddle Doos. Should a Super Waddle Doo see 
Kirby
 and his buddies (
Meta Knight
, 
King Dedede
, 
Bandana Waddle Dee
), it will attempt to use its beam attack to harm them. If a Super Waddle Doo is 
Inhaled
 by Kirby, he will receive the 
Flare Beam
Super Ability
. 
Ad blocker interference detected!
Wikia is a free-to-use site that makes money from advertising. We have a modified experience for viewers using ad blockers

Wikia is not accessible if you've made further modifications. Remove the custom ad blocker rule(s) and the page will load as expected.