Trophies are found in alot of games, but they're mostly in the Super Smash Bros. games as a collectable items that are in Classic, Adventure, and All-Star Mode. Trophies can also be found in Super Mario Strikers, Mario Strikers Charged, Mario Kart series, and many other game series.
Super Smash Bros series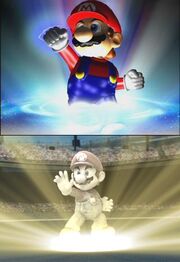 In the Super Smash Bros. series, the trophies live for one reason: to fight. When a character turns back into a trophy, they can't turn back unless a person touches the trophy or one of King Dedede's brooch can turn a trophy back to life. Super Smash Bros. Brawl had a bigger role in the Subspace Emissary than in Super Smash Bros. Melee. Trophies are collectable items that gives infomation about that character, object, item, etc. Super Smash Bros. Brawl added a new trophy that's called Assist Trophy which a character can summon another character for help in battle. Trophies didn't appear in Super Smash Bros., because they used dolls instead of trophies.
List of Trophies in Melee
List of Trophies in Brawl
Ad blocker interference detected!
Wikia is a free-to-use site that makes money from advertising. We have a modified experience for viewers using ad blockers

Wikia is not accessible if you've made further modifications. Remove the custom ad blocker rule(s) and the page will load as expected.