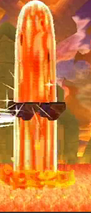 Vents, also known as Lava Geysers, are hazardous obstacles that appear in 
Super Mario Galaxy
, 
New Super Mario Bros. Wii
,
Super Mario Galaxy 2
,  
Mario Kart Wii
, 
Kirby's Epic Yarn
 and 
Kirby's Return to Dream Land
. They are large pillars of fire or lava that constantly rise out from 
Lava
 or from magma underneath a covered ground and sink back in. In Super Mario Galaxy, Vents are often found in the 
Melty Molten Galaxy
. They will constantly rise out from the Lava and sink back in. If one or a group of them is/are blocking 
Mario
's or 
Luigi
's path, they will have to wait for it/them to sink back into the lava to safely cross the gap they are in. If Mario/Luigi touches a Vent, they will lose one wedge of health from their 
Health Meter
 and run around uncontrollably for a few seconds. Vents reappear in Super Mario Galaxy 2, once again, being dangerous obstacles. They appear in the 
Shiverburn Galaxy
 on the
Starting Planet
. However, the Vents will disappear once Mario/Luigi 
Ground Pounds
 the switch in the middle of the planet, causing the Lava to turn to ice. In New Super Mario Bros. Wii, Vents only appear in 
World 8-1
 of 
World 8
. They are much more dangerous than they are in Super Mario Galaxy and Super Mario Galaxy 2. This is because Vents can take out Mario (or Luigi, 
Blue Toad
, or 
Yellow Toad
) in one touch. Avoiding them can be difficult, since the player must also avoid falling into the Lava. Poisonous ash clouds that chase the heroes, 
Raining Debris
, and 
Buzzy Beetles
 are also obstacles/enemies the player must avoid in the same level. In Mario Kart Wii, Vents appear in 
Bowser's Castle (N64)
 and 
Bowser's Castle
. In Bowser's Castle (N64), Vents are mostly found erupting in Lava to the sides of the track and do not appear in the player's path until they reach a jump. In Bowser's Castle, Vents are the last obstacles to avoid before the finish line. They will erupt from bumps in the ground, which the racers must avoid. Getting hit by a Vent in both courses will cause the player to spin out. In Kirby's Epic Yarn, Vents are mostly made of fire. They can be found in a few levels such as 
Moon Base
 in
Space Land
, and 
Meta Melon Isle
 and 
Battleship Halberd
 in 
Dream Land
. They can be stopped for a few seconds by pulling a button using 
Kirby
's or 
Prince Fluff
's yarn whip. Touching a Vent in this game will harm the heroes. Last but not least, Vents appear in 
Dangerous Dinner
 of 
Kirby's Return to Dream Land
. They, along with Lava, can be crossed safely by using certain 
Copy Abilities
 such as 
Ice
 and 
Water
. However, they must be avoided otherwise, for touching them without those Copy Abilities will cause Kirby (or 
Meta Knight
, 
King Dedede
 and 
Bandana Waddle Dee
) to take damage. 
Gallery
Ad blocker interference detected!
Wikia is a free-to-use site that makes money from advertising. We have a modified experience for viewers using ad blockers

Wikia is not accessible if you've made further modifications. Remove the custom ad blocker rule(s) and the page will load as expected.