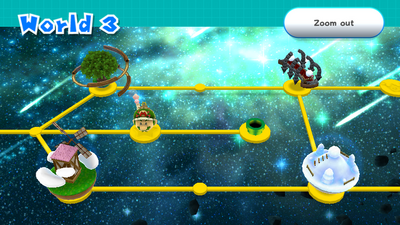 World 3, also known as World 3: The Far Reaches of the Universe, is the third world in 
Super Mario Galaxy 2
. It is located in an area with a green nebula. Many green comets and stars are found here. This world features seven galaxies, with the last one being 
Bowser Jr.'s Fearsome Fleet
. In Bowser Jr.'s Fearsome Fleet, 
Mario
 must fight 
Bowser Jr.
 who now controls 
Megahammer
 during the battle for the 
Grand Star
. 
Galaxies
Gallery
Ad blocker interference detected!
Wikia is a free-to-use site that makes money from advertising. We have a modified experience for viewers using ad blockers

Wikia is not accessible if you've made further modifications. Remove the custom ad blocker rule(s) and the page will load as expected.